Mobile App Features Designed Specifically For Unions and Associations
If you're thinking about a mobile app for your union or association, you probably have a few must-have features on your list. The most common feature requests we get from member-based organizations are for push notifications, polls and surveys, and event integration.
Push Notifications
Breaking through the noise of emails can be difficult. The unions and associations we work with consistently tell us that actually getting members to open and read emails or actively visit their websites is a challenge. Push notifications give you another way to share important information, updates and news with your members–one that they are less likely to filter out or delete without reading at all.
Targeted push notifications allow you to deliver only the most relevant information to your members at the right time. Including a few questions about what information or topics a member is most interested at the start of the app allows you to personalize the content they receive and send them notifications based on their interests.
Polls, Surveys, and Forms
Polls and surveys make two-way communication as simple as possible for your members. They also allow you to collect data and information so you can better understand their needs and opinions to improve future development.
Event Integration
Event integration means you no longer have to deal with one-off mobile apps for each event your union or association organizes. You can provide the event schedule, speaker lists, sponsor lists and relevant information in the same app your members already use year-round.
While push notifications, polls and surveys, and event integration are the most commonly requested features from member-based organizations, there are several other features we consider must-haves for unions and associations that are serious about member engagement.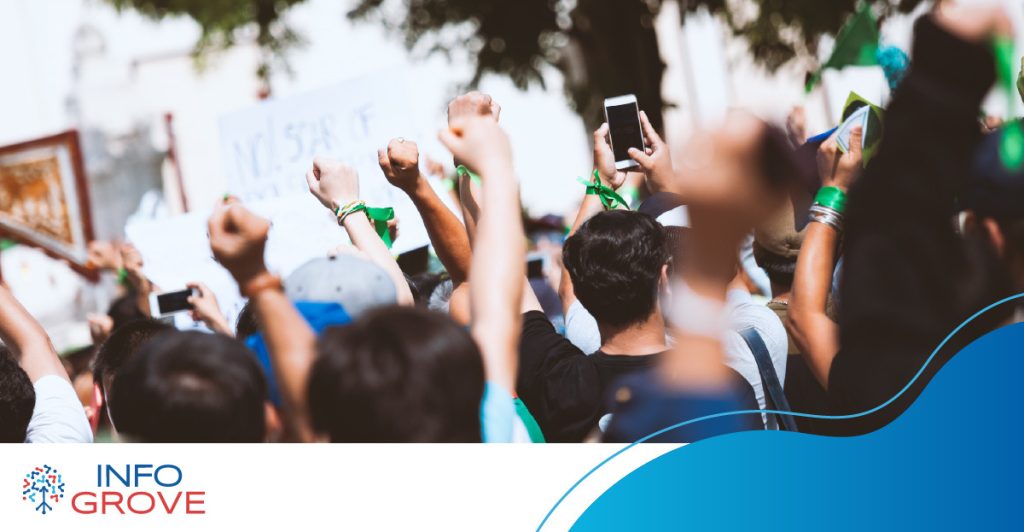 Mobile Features You Might Not Have Considered
We love being able to expand unions' and associations' vision of what's possible with a mobile app when you're using a platform designed specifically to address the unique needs of member-based organizations.
It's exciting to demonstrate what's possible with a mobile app platform that actually understands a potential client's unique needs and has features and modules they had not even considered initially.
There are dozens of features available on the Info-Grove platform, but there are four key ones that we see people get most inspired by.
An Optional Membership List
One of the greatest benefits of being a member of your organization may be the connections and networks fellow members can make with each other. If you have a union or association with hundreds or thousands of members, though, it can be an overwhelming and complex (and possibly insurmountable) task to keep a members' directory up to date.
Info-Grove's contact list sync module allows you to integrate with your data source and bring a list of contacts into your mobile app. The module pulls information from the data source, creates a contact list and then the contact list can be used as a member directory.
Instead of working with a bulky spreadsheet and manually inputting updates, members can update editable parts of their profile information at any time. The information is sent to the data source and the contact list sync module synchronizes the information from the data source with the member directory, so it's always current.
Having the contact list sync module means your members have the ability to update their contact details whenever they need to. You no longer need your staff member to keep track of change requests or manually make updates.
Digital Membership Card
Mobile apps are a great way to provide access to benefits to members. Your association app can allow members to launch their unique ID card to redeem benefits where accepted.
The same membership card and its associated QR or Bar code could be used by members to gain access to an event, where the digital card is scanned upon entry.
With the contact list module I mentioned earlier, the information associated with a member's digital card can always be up to date because any updates made to the data source or by the member are automatically pulled into the digital membership card.
Enhanced Access
We know that if you're a member-based organization launching a mobile app, you want a way to be able to create a member's credentials with their profile on the app– you want your members to be able to log in to the app or sections of the app with credentials.
With an enhanced access module, you can then offer different experiences on the app based on a member's credentials. You can include specialty content that only certain members have access to based on membership level, seniority, role, etc. – there is an incredible amount of flexibility.
Campaign Module
Mobile apps give you a new mobile-first way to promote awareness of new campaigns and generate support from your members. You can take your grassroots advocacy efforts to the next level using the campaign module.
A series of targeted push notifications, based on sectors, member status, and geographic location, can be sent to members across the country in seconds.
Perhaps most importantly, your members have immediate access to campaign links and can send a pre-written advocacy email to a local representative or government official in the click of a "Take Action" button.
For example, say you have a teacher's union or association and wanted to encourage your members to support a new bill that would improve pay for educational assistants. With the campaign module, you could develop an awareness campaign that included information in various media formats (video, image, text). Once you share the campaign with your members via a push notification, they can access the relevant information and show their support in one click.
Info-Grove even has a system that allows us to pull the names and contact details of different politicians based on region. So, your member's advocacy email would go directly to the representative responsible for the jurisdiction the member lives in.
This module makes it incredibly easy for your members to take action to support your various initiatives.
If you're looking to develop a mobile app for your union or association members, it's worth evaluating if the app development companies you're considering have experience working with member-based organizations with the features to support your needs.
A mobile app is an excellent way to share updates and collect information from your membership via push notifications and polls and surveys, but with the right features, your mobile app can be an incredibly powerful tool for generating engagement, building support for your causes and creating change.
Info Grove powers mobile apps for unions and associations across the U.S. and Canada. If you're interested in learning more about Info-Grove's platform, contact us to set up a discovery call.
Karim Mansour is an Inside Sales Representative at 14 Oranges, the creators of the Info Grove platform.
Have You Considered These Moblie App Engagement-Boosting Features?