Elevating Your Union or Association Mobile App Experience
If you have a union or association with hundreds or thousands of members and you're looking to improve member engagement, you may be considering having a mobile app developed.
A mobile app can be an incredibly effective tool for increasing engagement and improving communication with your members. People tend to look at their phones hundreds of times a day, so having a mobile app is an excellent way to reach members where they are, when it matters most.
Waiting for an email to be opened or hoping that your members will see a social media post isn't as effective as communicating directly with them via an app designed specifically for your organization.
There are many features of a mobile app that could help your union or association, like targeted push notifications, polls, surveys and forms, digital membership cards for redeeming benefits, links to political contacts, serving as a donation portal and sending push notifications for grassroots campaigns.
A quality mobile app designed for unions and associations should also offer event integration for any of your live or virtual events, like an annual conference, local meeting or webinar series. Finally, an app that has a simple content management system will also make it easy for your staff to add and edit content as needed, so you can always keep your members up to date.
But what about communication between members? One of the greatest benefits of being a member of your organization may be the connections and networks fellow members can make with each other.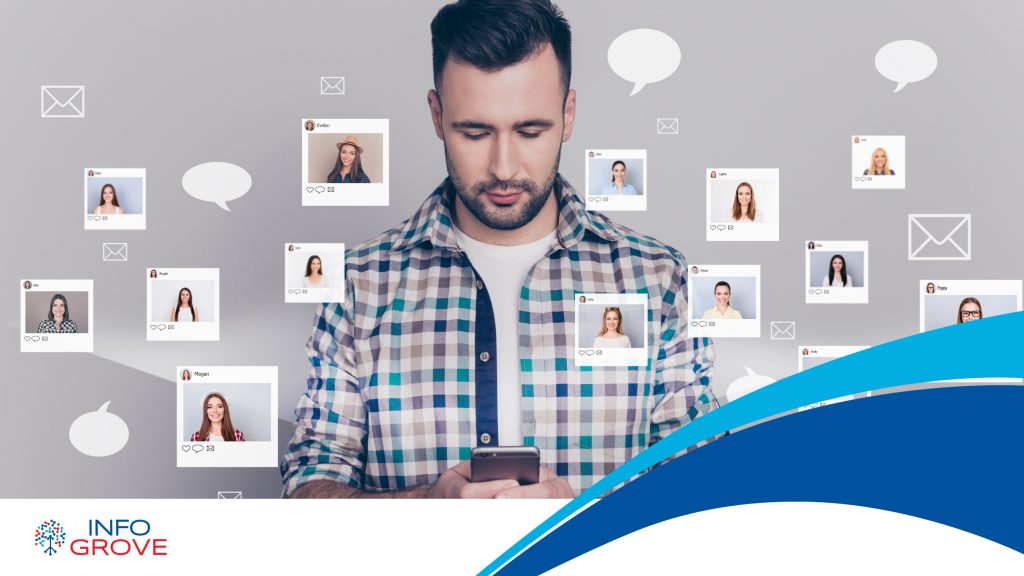 If you have a union or association with hundreds or thousands of members, though, it can be an overwhelming and complex (and possibly insurmountable) task to keep a members' directory up to date.
What if your mobile app could do that too? What if your members could trust that they could find the most up-to-date contact details for any member within your app?
With Info Grove's contact list sync module, you can do just that.
Using Info Grove's Contact List Sync Module to Create an In-App Membership Directory
The contact list sync module allows you to integrate with our datasource and bring in a list of contacts into your mobile app. The module pulls information from the datasource, creates a contact list and then the contact list can be used as a member directory.
With this new module, instead of working with a bulky spreadsheet and manually inputting updates, members can update editable parts of their profile information at any time. The information is sent to the datasource and the contact list sync module synchronizes the information from the datasource with the member directory, so it's always current.
Having the contact list sync module means your members have the ability to update their contact details whenever they need to. You no longer need a staff member to keep track of change requests or manually make updates.
Additionally, having a members' directory available directly within your app is an excellent way to encourage interaction amongst your members. They can easily find the information they need to connect with others directly from their phone.
With a mobile accessible and reliably up-to-date member directory, union members can find support, organize and encourage each other. For business associations, having a member directory on your mobile app gives your members the ability to easily connect with mentors and supporters and expand their professional networks, elevating the value they get from membership in your association.
Using Flexibility and Customer Insight to Innovate
This new module, an innovation and evolution of our contact list module, was actually inspired by Info Grove clients. In our work creating mobile apps for unions and associations, we often hear about challenges our clients are facing. These challenges act as a catalyst for our teams to develop new modules in an effort to solve our clients problems.
The contact list sync module was developed after one client asked us for a way to turn their contact list into a member directory and several other clients expressed a desire for their members to be able to update their contact details themselves.
Now that the module has been developed, it is available to all of our clients, depending on the level of their package. If your union or association is currently considering having a mobile app developed, it's worthwhile asking if the vendors you're considering are able to provide a member directory.
If you'd like to know more about the benefits of developing a mobile app for your union or association, or what features are available, don't hesitate to contact us.
Karim Mansour is an Inside Sales Representative at 14 Oranges, the creators of the Info Grove platform.
Have You Considered Adding a Member Directory to Your Mobile App?