MOBILE APP DEVELOPMENT FOR CITIES & TOWNS
Engage your citizens like never before.
How do you engage citizens when you don't know who they are? Websites are good but how often do your citizens visit your site? Social media is great but not everyone is on it and who knows what those platforms will do with your data! Info Grove provides you with a simple mobile first solution to engage your citizens right in their pockets. With Info Grove you can provide:
"Report a problem" service (311).
Updates on Road conditions (511).
Timely safety and emergency notifications.
Schedules for events, transit, parks & recreation.
Business and parking locations.
Recycling and garbage collection information.
Surveys and polls to get feedback on your city/town/village. 
Payment collections for permits, tickets, and memberships. 
And so much more! 
The best thing is that Info Grove can work in conjunction with your website so that you don't have multiple places to manage. We have a track record of success with government entities across North America. We've built a wide variety of government mobile applications, from political apps to event apps, we've done it all. Maintaining mobile communication with your citizens or employees is vital. If you are looking for next-level citizen engagement, contact us today.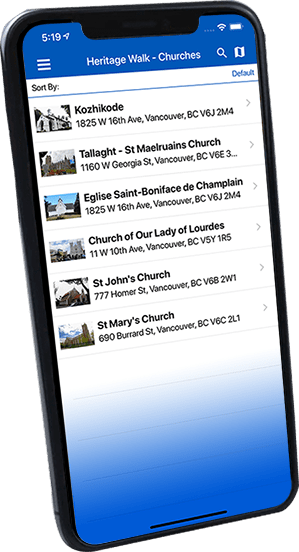 Create self guided tours of your city/town. Improve citizen and visitor engagement with your:
Parks
Public art exhibits

Heritage buildings

Restaurants

Or anything else that make your municipality unique!
Add videos, audio, 360 images to make an all encompassing experience.
Sample Cities and Towns Customers​
Is your municipality or local government considering a mobile app for your local residents but don't know where to start? Or do you wonder if a mobile app would benefit your town or region but are not sure how to evaluate the option? We have prepared a guide to help you!
Our guide is designed for the non-technical professionals. We update it regularly and the information here will help you understand as much as you need to know about mobile apps and working with mobile app developers. You will be able to confidently choose whether to have a mobile app developed and why, you will be able to choose a mobile app development company and you will be able to lead your team through the project to a successful mobile app launch.