Surfside Beach, Texas, is a small and vibrant town renowned for its picturesque coastal beauty and popularity among tourists. It is known for beach activities like kayaking and surfing, fishing and is popular amongst bird watchers who visit to catch sight of one of the area's almost 400 species of birds.
It was a great opportunity to use our mobile app platform to its full potential, helping Surfside elevate their tourism experience through technology.
Surfside Beach, with a population of around 600 residents, experiences a significant surge in visitors during the summer season, attracting approximately 13,000 tourists. The town approached us through their tourism department when their existing app provider announced closure. They needed a new partner to take over the development and maintenance of their app.
During our initial discussions, Surfside Beach expressed their desire to focus on enhancing its tourism features. They wanted to create an engaging digital platform that would provide valuable information and experiences to tourists exploring their town. We recommended our comprehensive package, which includes a wide range of functionalities suitable for municipalities.
Our mobile app for Surfside Beach goes beyond the conventional offerings. While catering to tourists, we ensured that the app also includes essential information for residents, such as garbage pickup schedules, local services, and other relevant content. By encompassing both residents and visitors, Surfside Beach's app serves as a reliable resource for all users – both residents and visiting tourists, promoting community engagement and enhancing the overall experience.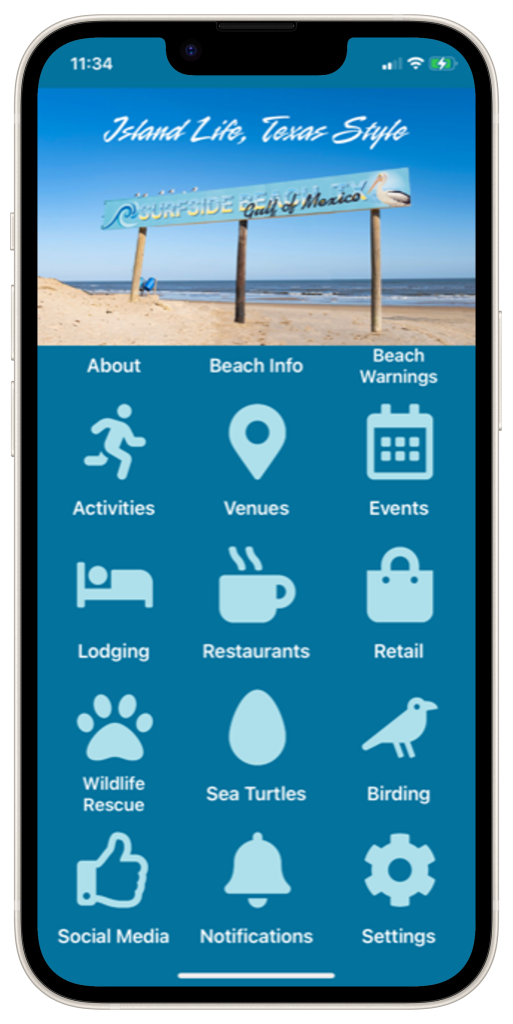 Surfside Beach is distinct in its focus on tourism, making it an ideal client for our expertise. Though we have worked with other municipalities that have tourist attractions, Surfside Beach stands out as a town entirely dedicated to providing an exceptional tourist experience. Surfside was ready to embrace technology to bolster their tourism industry by creating a mobile app that catered to the significant influx of visitors they receive during peak season.
Our collaboration with Surfside Beach, Texas, has been an exciting endeavour. We take pride in assisting this small tourist-oriented town to modernize its tourism approach through our advanced app features. This project highlights our commitment to providing flexible solutions that cater to the unique needs of municipalities, regardless of their size.
Looking ahead, we see potential in further exploring the market of tourist towns and leveraging mobile apps to enhance their offerings. We continue to work with Surfside to help them realize their vision of offering a 360-degree virtual tour of the town via our Experiences module, which will showcase what is possible for towns and municipalities looking to create engagement via a mobile app.
If you would like to learn more about our app development services for towns and municipalities, or have specific requirements for your town or municipality, please feel free to reach out to us. We love helping communities use mobile apps to engage with their residents and visitors and look forward to learning about your municipality or town.
Find the app for iOS or Android.
Karim Mansour is an Inside Sales Representative at 14 Oranges, the creators of the Info Grove platform.
Customer Spotlight: Surfside Beach, Texas – Embracing Technology to Enhance Tourism