The Quebec Provincial Association of Teachers (QPAT) promotes and develops the professional, social and economic interests of teachers. Representing over 8,000 teachers in Quebec, QPAT aims to provide teachers with some of the practical pedagogical and professional knowledge needed as they carry out their work.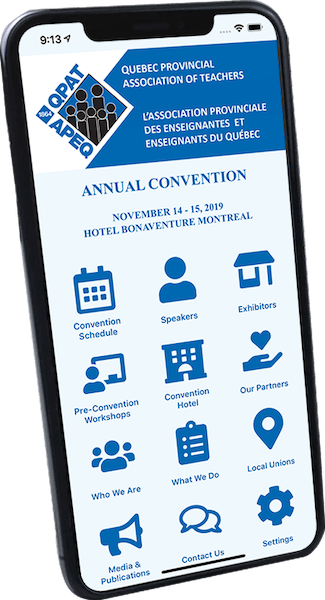 QPAT organizes the Annual Teachers' Convention for its members, which takes place in the fall in Montreal. Along with meeting other members, exhibitors and guest speakers, all-day pre-convention workshops as well as shorter workshops are organized. To help their members and convention attendees navigate the 2019 Annual Teachers' Convention, QPAT has decided to launch a mobile application powered by Info Grove. The mobile app helps the convention attendees with access to:
Convention Schedule, Program and workshop feedback
Information on Speakers, Exhibitors, partners and local unions.
Additional resources, social media pages, and convention location information.
The content is available to users in both English and French and QPAT is able to manage the app content and send push-notifications at any time throughout the convention.
The app launched in the first week of November ahead of the convention which takes place on the 14th and 15th of November 2019.
Update: QPAT has upgraded their app from a convention app to a members' engagement app.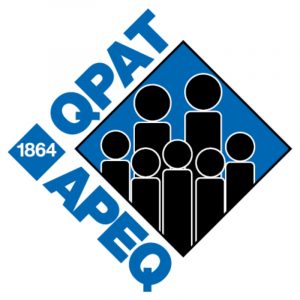 L'Association provinciale des enseignantes et des enseignants du Québec (APEQ) promouvoit et développe les intérêts professionnels, sociaux et économiques des enseignantes et des enseignants. Représentant plus de 8 000 enseignants au Québec, l'APEQ a pour objectif d'offrir aux enseignantes et aux enseignants des connaissances pratiques dans le domaine pédagogique et professionnel nécessaires à l'exécution de leur travail.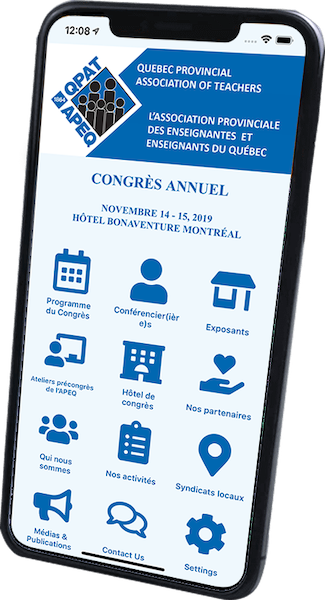 L'APEQ organise le congrès annuel des enseignantes et des enseignants, qui a lieu à Montréal chaque automne. Les participants peuvent rencontrer d'autres membres, exposants et conférenciers. Des ateliers préparatoires d'une journée sont prévus ainsi que des ateliers plus courts couvrant tout un éventail de sujets. Pour aider leurs membres et les participants bénéficier au cours du congrès annuel de 2019, l'APEQ a décidé de lancer une application mobile optimisée par Info Grove. L'application mobile permet aux participants d'accéder à:
Calendrier du congrès, programme et commentaires de l'atelier
Informations sur les orateurs, les exposants, les partenaires et les sections locales.
Des documents, pages de médias sociaux et informations sur l'hôtel de congrés.
Le contenu est disponible pour les usagers de l'application mobile en français et en anglais. L'APEQ peut gérer le contenu de l'application et envoyer des notifications push à tout moment pendant la convention.
L'application a été lancée au début de Novembre avant la convention qui aura lieu le 14 et 15 Novembre 2019.
Mise à jour: l'APEQ a transformé leur application mobile pour leur congrès annuel à une application d'engagement des membres.

QPAT Launches a Mobile App for its 2019 Annual Convention! APEQ Lance Application Mobile Pour Leur Congrès Annuel 2019!