Your personal guide in your pocket.
Info Grove allows you to provide a new mobile experience, update content on the fly, and reach your visitors with a mobile-first approach. 
Use Info Grove to:
Provide descriptions of your artifacts/items.
Enhance visits with audio and video content.
Provide timely safety and emergency notifications.
Inform visitors of hours of operations, schedules for events.
Conduct surveys and polls to get feedback on your performance. 
Collect payment for tickets, and memberships.  
Save costs by replacing membership cards with a digital card.
Create elaborate self guided tours and enhance your users visits with a spatially triggered multimedia experience. 
The best thing is that Info Grove can work in conjunction with your website so that you don't have multiple places to manage. 
Case Study - The Polygon Gallery
See how The Polygon Gallery are now able to engage visitors during their visit and also after they are long gone using their new app. 

Info Grove offers modules specific for museums and galleries allowing for a truly unique visit.
Support for beacons allows for self-discovery of content based on user proximity to exhibits, entrances, or points of interest.
Provide videos, photos, text, audio to add an enhanced layer of information for your exhibits.
Attract new members, gain more donations, and keep users connected with you even when they are not visiting.
Collect data and analytics about your user base. Identify primary use cases in the app.
Deploy specific event features to accommodate and promote all your events.
Retire traditional printed maps and brochures and generate revenue with banner ads.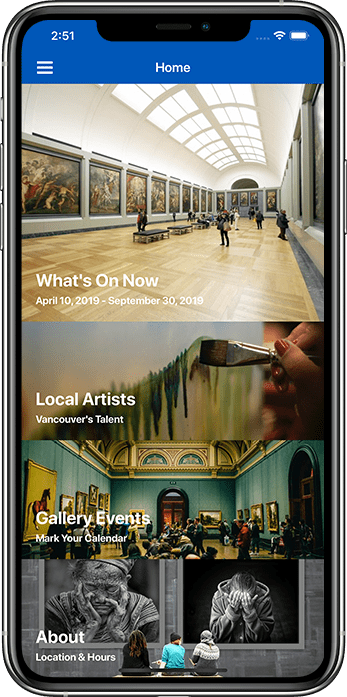 Beacon technology support allows your app to morph its content based on proximity ensuring visitors are always viewing relevant content.
Trigger notifications as visitors enter or leave your gallery or an exhibit.