On November 18, 2017, The Polygon Gallery opened its doors to their highly anticipated gallery. Located in North Vancouver's Lonsdale Quay, the 25,000 square foot facility is said to be Western Canada's most extensive photography focused gallery. The new opening marks a shift for North Vancouver's historic gallery. Formerly called the Presentation House Gallery, the new location provides a unique visitor experience to Lonsdale Quay. Thanks to the generous support from BMO, admission is by donation — forever — and open to their members and the public.
Polygon didn't stop at opening a new location and rebranding their name; with the opening of their gallery also comes a new mobile app!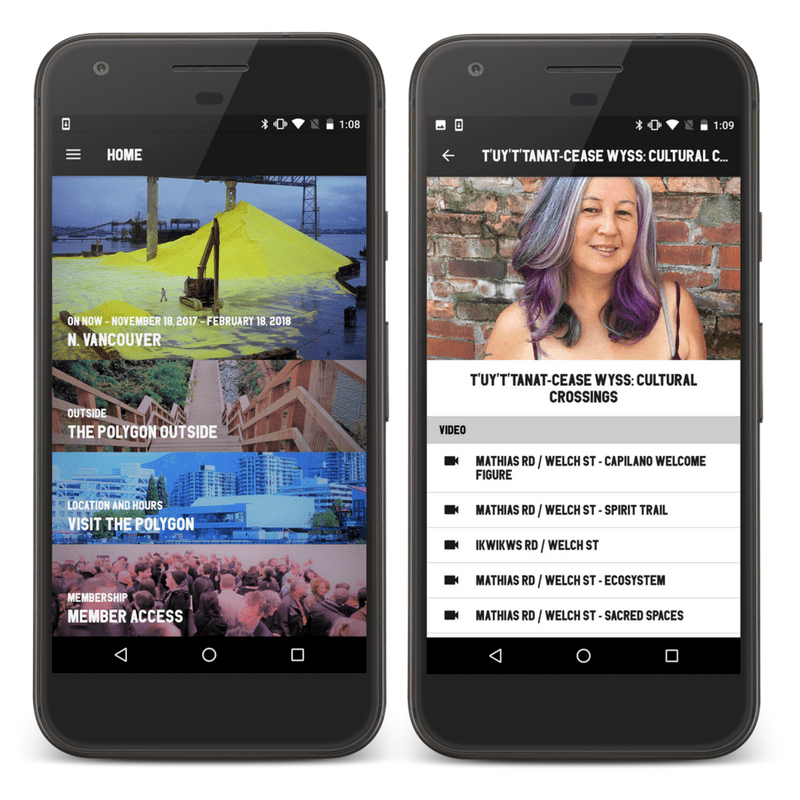 Available for both iPhone and Android, the mobile app is free to download to the public. The app is perfect for first time visitors and longtime fans. In addition to standard gallery information — hours of operation, location, and general info — the app provides a new multimedia gallery experience. The mobile experience is available whether a user visits the gallery or not. By downloading the app, users have access to THE POLYGON OUTSIDE, the Gallery's platform for newly-commissioned digital artist projects. The first series of these interactive audio-visual projects animate sites along the North Shore Spirit Trail, a fully accessible greenway that will extend from Horseshoe Bay all the way to Deep Cove. The artworks hosted on this mobile app can provide a unique perspective on the history of their particular site. The multimedia experience can be further enhanced with active beacon support. Users can visit the gallery and receive app updates with audio, video, and extra content. So when visitors walk towards a piece of art, a notification pops up with relevant info. When visitors move to a different piece of art, a new update is provided. NOTE: Polygon's beacon support will be available early 2018.
The Polygon Gallery Adds New Mobile Experience