Engaging Residents and Supporting Local Businesses with a Mobile App
Saugeen Shores is a town in Bruce County, Ontario, Canada, formed in 1998. In addition to the two main population centres of Southampton and Port Elgin, the town includes a portion of the village of Burgoyne and the North Bruce area, straddling the municipal eastern and southern boundary respectively.
When the town decided it wanted to increase citizen engagement and have additional ways to share information with its community, it decided it was time to invest in a mobile app. Their research into mobile app developers led them to Info Grove. When Info Grove provided a demo that they were impressed and the decision to work together was an easy one.
A Way to Engage Residents
Like many municipalities that Info Grove works with, Saugeen Shores wanted to build a mobile app to help increase the engagement of the residents living in their region. Increased engagement helps build stronger relationships between those running a municipality and its residents, resulting in:
A greater sense of community ownership, improving safety and care for the community and others.
Improved uptake of services because residents are more aware of what is available and because they provide more input about what they really want and need.
Resident feelings of satisfaction, belonging and well-being.
Positive impacts on the local economy by promoting local businesses.
What Saugeen Shores Wanted From a Mobile App
Saugeen Shores liked the fact that the Info Grove platform and its variety of modules can allow them to continuously update and add to their mobile app, but their initial requirements included those that many municipalities seek when they're having a mobile app developed. They wanted:
The ability to provide up-to-date information to residents using push notifications. This ability to actively provide information in real-time to residents as they're going about their daily lives is something that a website, social media or more traditional forms of communication passively do.
To be able to give residents notices about road closures and work. We showed them how they can use an Info Grove module to make providing these details straightforward.
To pull in various features from their website and make them available to the residents using the app. This is a simple way to make the information a municipality adds to their website easily available to residents from their phones while they are on the go.
To showcase local businesses through a business directory. They were pleased to know there are multiple ways to do this within Info Grove, using a variety of different modules depending on what information they wanted to include.
We were pleased to be able to offer an app that could meet these Saugeen Shores' requirements using various Info Grove modules.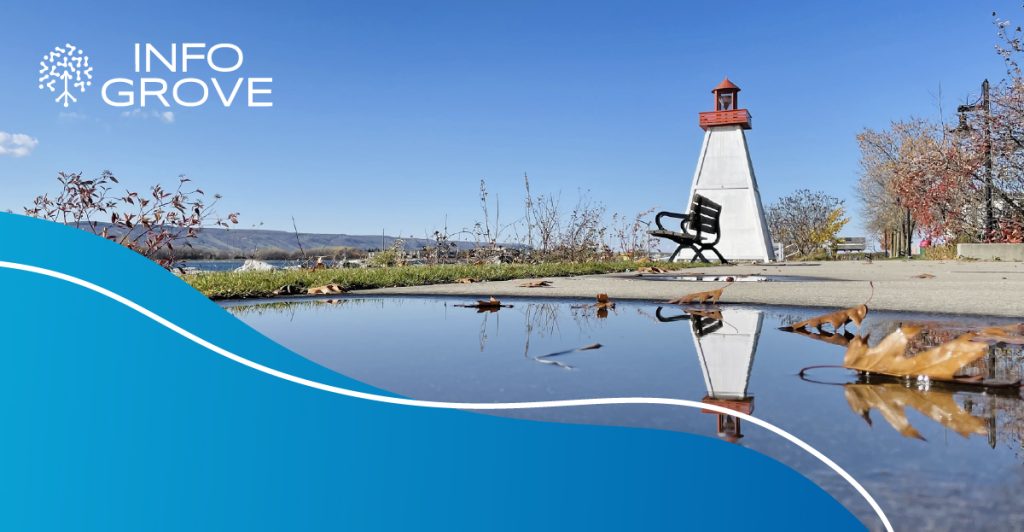 A Mobile App Solution for Your Municipality
If your municipality is looking for a way to improve engagement with your residents, it may be time to look at investing in a mobile app. Like Saugeen Shores, you may find out that the investment is considerably less than expected.
If you're interested in learning more about Info Grove's mobile app platform designed specifically for municipalities and towns, please contact us to learn more.
Karim Mansour is an Inside Sales Representative at 14 Oranges, the creators of the Info Grove platform.
Mobile App Customer Case Study: Saugeen Shores