Mobile App Content Updates with Info Grove's User Roles
One of the greatest advantages of building a mobile app on a mobile app platform is the ease with which non-technical team members can make changes and updates to the content shared via the app. This eliminates the need for extensive development experience and empowers team members to take ownership of the app and its content.
With an intuitive content management system (CMS) and user-friendly interface, anyone on the team can be quickly trained to make changes to the app's content. This streamlines the app development process, saves time and resources, and ensures that the app stays up-to-date with the latest content and information. It allows you to make changes in real-time, without needing to contact your app developer each time you want to make an update.
Staying Organized
If there's only one person at your company responsible for updating and maintaining your app, it doesn't get too complicated on the back end. But, if you have multiple team members working on the "back end" or CMS of your mobile app, it can get more complex.
To help our clients keep things organized when multiple team members will be going into the app to make changes and updates, Info Grove has what we call 'user roles'.
User roles refer to the different levels of access and permissions that can be assigned to various users within the CMS. Within Info Grove, user roles allow customers to add different internal users who can contribute to the app through the CMS (Content Management System).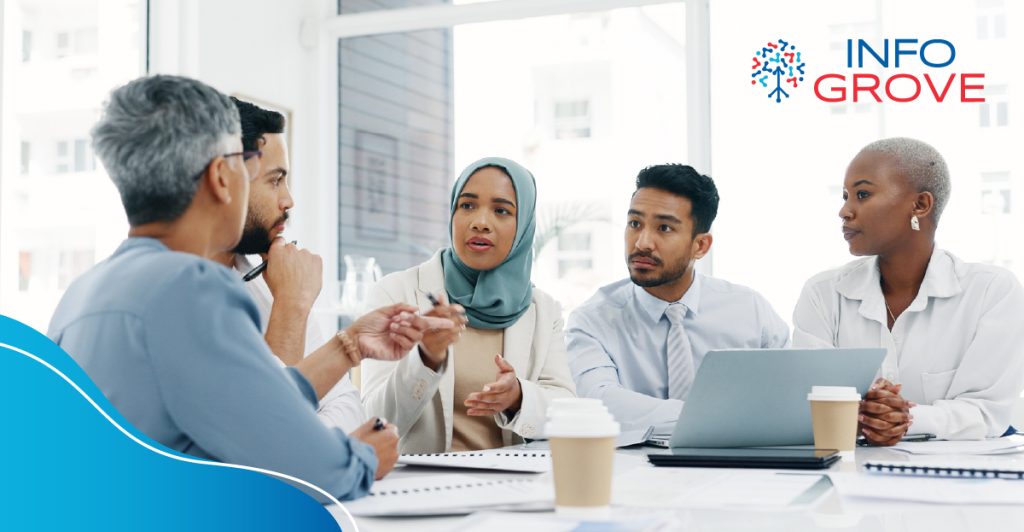 What Kind of User Roles Exist and Why?
Info Grove offers four different user roles: Messenger, Author, Editor, and Admin. Each role has a specific set of permissions and access levels, ranging from the ability to just send push notifications (Messenger) to the ability to manage users (Admin).
If you have a company social media account, you may be familiar with these types of user roles. For example, only certain people may have the ability to publish a paid advertisement or change key settings on your company's Facebook account.
It's important to understand user roles because it allows for more collaborative and flexible app development, with multiple individuals contributing content to the app. It also helps to ensure that sensitive information is only accessible to authorized users.
If you're just getting started on your mobile app development journey and aren't sure what role everyone on your team may play, don't worry. The only user role we need to define at project launch is the administrator role. From there, user role access levels can easily be added, switched or restricted as needed from within the CMS by an administrator at any time. This allows for quick and easy adjustments to user access levels as needed.
Once you've had time to decide who is going to do what on your team, we recommend that you clearly define their roles and responsibilities. Assign each team member a user role based on what they'll need to access to complete their tasks. This helps to ensure that each user has the appropriate level of access and permissions needed to contribute to the app's content.
Training Your Team
As part of Info Grove's launch process, the client staff is trained on how to use the CMS, typically in a 2-hour session. This training covers all user roles and their respective permissions and access levels.
Additionally, Info Grove's "History" feature allows clients to monitor all changes made to the app by each user, so you'll always be able to see what each user has done within the app.
Don't Stress If You're Not Technical
If you're not technical or have no experience working with mobile app development, you might have immediately felt tense when I mentioned "user roles" or "content management system". But, with Info Grove's training and your mobile app CMS and back-end interface in front of you, you'll quickly learn that it's no more difficult than managing any other content development and distribution. Your app is another platform for sharing information and communicating with your community.
User roles help you define who can do what in the platform, what they can access and what types of activities they can carry out. Our clients quickly see how simple the process is and appreciate how collaborative and flexible both the CMS and user roles make the app update and maintenance process.
If you're interested in learning more about the Info Grove mobile app platform and how it makes developing, updating and maintaining a mobile app easier and more cost effective than having a custom mobile app built, book a demo with the Info Grove team. You'll be amazed at what you can achieve using a platform like ours.
Karim Mansour is an Inside Sales Representative at 14 Oranges, the creators of the Info Grove platform.
Maximizing Collaboration and Flexibility