Fulton County is located in the north-central portion of the U.S. state of Georgia and is home to more than one million residents.
In the lead-up to the 2020 US Election, we created and launched a new voting app for Fulton County. The app provided residents with important and timely information ahead of the election.
More recently, Fulton County's health and human services agency issued a request for proposals (RFP) to design and launch an informative app for residents.
Known as Fulton Cares, the goal of the app was to provide public health information to residents, such as information about health services, community housing and senior services. In addition, Fulton Cares also provides information related to the ongoing Covid-19 pandemic.
As part of the app's design, they asked us to customize their icons so that the app aligned with the county's brand guidelines. Customizing an app to match the look and feel of our client's other local services is important to many of the municipalities and other clients that we work with.
Fulton County also chose to offer a mix of customized dashboard view and grid view for their app. For example, when users click on an icon on the homepage of the app it takes them to a sub-page which is laid out like a scrolling menu with images, providing more visual appeal.
In addition to offering a visually appealing experience for users, Fulton County also wanted a way to assist with user questions and engage with residents using the app. To achieve this, we partnered with a third party Fulton County was already working with to embed that company's chatbot within the new app. The chatbot uses artificial intelligence to guide people towards a relevant answer to their questions.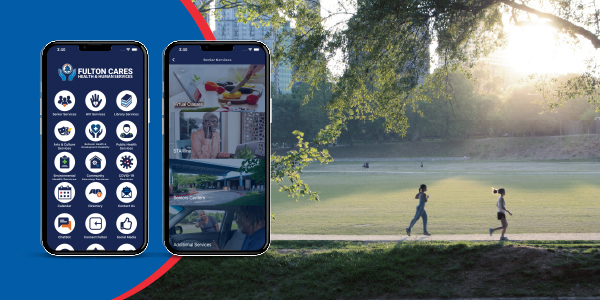 To use the chatbot, users click on the icon found on the main menu and are directed to an embedded page where they can then select which service they have a question about and type their question in the message field. The chatbot guides users to commonly asked questions and answers. If a user's question is still not answered they can be redirected to methods for getting staff assistance.
Chatbots can be extremely helpful because they provide quick answers to questions about your services, solve problems faster, and assure residents that you're there when they need you.
In addition to customization options, Fulton County wanted an app that offered flexibility and ease of use for their internal teams. Info Grove's platform comes with more than 40 different modules that can be easily used by our clients' staff to add or remove content. This helps to ensure the app reflects the changing needs of an organization over time. For example, if staff at Fulton County need to add or change information about a Covid-19 vaccine clinic, they can easily do that themselves with a few clicks of a mouse. Info Grove also provides support after the app is launched to help with any troubleshooting needs.
If you are a municipality or association that is interested in creating an engaging and easy-to-use mobile app please contact us to learn more about Info Grove Municipalities.
Karim Mansour is an Inside Sales Representative at 14 Oranges, the creators of the Info Grove platform.
Mobile App Customer Case Study: Fulton Cares