The City of New Holstein is located one hour and 15 minutes north of Milwaukee in Wisconsin and has approximately 3,000 residents.
Like many small towns and cities, they wanted us to help them develop an engaging mobile app for their citizens that was both useful to them and financially viable for the city's budget.
At Info Grove, one of our specialty areas is building customized apps for municipalities.
The secret to our success is that our robust mobile platform uses more than 35 different modules or menu options that our clients can add to their platform. This includes:
calendars for events
information about recreational activities
updates about local government meetings
details about elections
and more
Easy Mobile App Development
The City of New Holstein's app uses several of Info Grove's modules to bring in content about the police, garbage and recycling,monthly newsletter and more. The mobile app is easy to navigate and also includes their own city brand/logo for the ultimate in civic pride.
One of the best parts about our platform is how easy it is to add or remove content. This is critical because municipalities need to constantly update and inform their residents about changes in the community.
After our team sets up the initial app, trained city staff can simply log into Info Grove's content management system and add or remove content and modules with the click of a few buttons.
As part of each mobile app we build, we provide training to municipal staff so they know how to use the app's content management system. Our package includes technical support from us in the event that staff run into trouble or need a refresh session led by our project manager.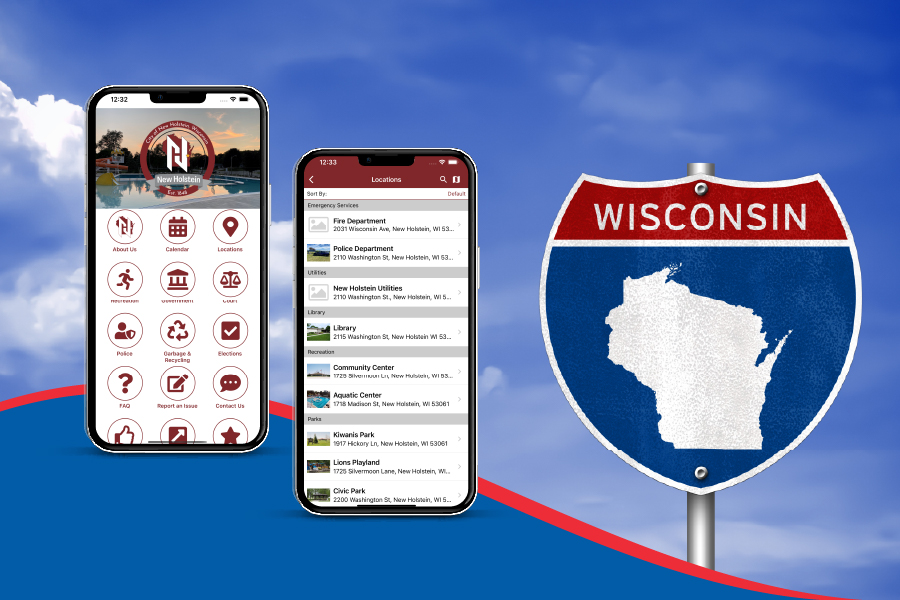 Mobile Apps Grow With the Community
One of the great things about our mobile apps is that each module is flexible to include an external URL if required. This can be helpful because sometimes it's easier to send users to an external website if the information is consitently changing or is quite in-depth.
Just like any other mobile app you are used to, our apps also allow our clients to send push notifications to their users. This is one of our most sought after features because it allows municipalities to easily send important information directly to their residents with the click of a few buttons. This can be critical in the event of a public emergency.
All of the apps we build are available for download either in the App Store or through Google Play and we continually update the backend of our platform to ensure that they function smoothly.
If you are a small municipality on a tight budget, and interested in creating an engaging and easy-to-use mobile app please contact us to learn more about Info Grove Mobile Apps for Municipalities.
Karim Mansour is an Inside Sales Representative at 14 Oranges, the creators of the Info Grove platform.
Customer Case Study – City of New Holstein