Ottawa, ON (
LINK
) The Canadian Agricultural Human Resource Council (CAHRC) has developed the Ag Smart-Association App (ASApp), a powerful smartphone app that helps agricultural associations engage their members, save money and generate revenue by providing self-managed mobile application services.
When offered by national or provincial organizations, ASApp is free to users and is always 'on' with real-time notifications. This creates opportunities for the association to connect with its members to: sign-up and renew memberships; register for events; participate and vote during events; access location aware contact directories; access secure log-in areas; and engage in social media feeds, among other functions. It can also give full access to CAHRC-provided employer tools including the AgriHR Toolkit and other staff management tools. Learn more of CAHRC's ASApp and how it can better serve and connect with organizational memberships at www.cahrc-ccrha.ca.
ASApp is now being used by both the Canadian Honey Council (CHC) and the Canadian Young Farmer's Forum (CYFF). For the CHC, there was a business driver behind acquiring the app. "Food safety and biosecurity are becoming increasingly important in terms of food production," explains Rod Scarlett, Executive Director of CHC. "At the same time the concept of social license has meant responses to issues need to be handled immediately and thus, the CHC app can become a very important tool for beekeepers. It allows for issues to be handled in a medium that is becoming more and more influential. It is quick and easy, yet can provide the detail necessary for a clear explanation."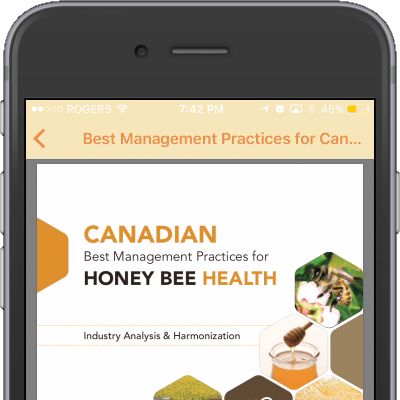 For the Canadian Young Farmer's Forum, ASApp provides essential communications connectivity. "The CYFF is using the ASApp to connect young farmers with their peers and industry, as well as with their local young farmer organization," says Guenette Bautz, CYFF General Manager. "It provides beneficial information and links to producers of every commodity, informs producers of industry events and programs, promotes industry events including the CYFF national annual conference, membership awareness and forms, and so much more. The CYFF wanted to offer current technology advances to members that will keep agricultural producers informed and have industry information and updates at their fingertips at all times."
There are several things that set ASApp apart from other apps, explains John Craig, VP Sales and Marketing for ASApp developer 14 Oranges. ASApp is delivered in the Software-as-a-Service (SaaS) model, meaning the app is delivered as a service and CAHRC and 14 Oranges take care of maintaining the iPhone and Android apps against the latest operating systems and devices released by Apple and Google on behalf of customers through three key features.
The first is a targeted push notification service. This allows the customer's app administrators to push information directly to the smartphones of their members, with the goal of having members perform real world actions to the benefit of their organization, such signing up for memberships or registering for an event.
The second is a self-service, web interface for updating content by the customer. This means associations do not have to come back to CAHRC or 14 Oranges to update content in the app, saving them money.
The third is the support for multiple content authors, allowing a national organization to permit provincial or local affiliates to update information inside the app. This gives the app a highly-localized appeal, helping it to be downloaded and used more frequently as it contains content localized for the member's region or interest, explains Craig.
"Each association's version of the app is customized for branding and functionality, allowing ASApp to adjust menus, content and features as desired," explains Andrew Hurrell, Business Development and Stakeholder Engagement, CAHRC. "Smartphone apps like ASApp bring the best of your website to your members' mobile phones."
Other organizational advantages to ASApp are cost savings as it retires traditional print and media approaches and brings newsletters, journals, conferences and event programs right to the phones of association members – with all information easily updated by staff via the web interface.
Increased revenue streams are also possible by using ASApp for advertising directories, sponsor's offers and benefits, coupons and promotional codes as well as links to web and social media sites to connect sponsors through the app to association's audience.
Finally, usage analytics and easy to administer member surveys help to provide important insights to associations about their membership.
The app design is compatible with both Android and Apple smartphones and follows best practices in mobile user interaction design and usability. As with other mobile applications it is intuitive requiring no end-user training. For more information on CAHRC's ASApp visit www.cahrc-ccrha.ca.
____
The Canadian Agricultural Human Resource Council (CAHRC) is a national, non-profit organization focused on addressing human resource issues facing agricultural businesses across Canada. Industry participation is the cornerstone of CAHRC, working with agriculture industry leaders, governments and educational stakeholders to research, develop and communicate solutions to the challenges in employment and skills development in the agriculture industry. CAHRC leads collaborative implementation efforts in support of the Canadian Agriculture and Agri-Food Workforce Action Plan for the sector. For more information visit www.cahrc-ccrha.ca
For more information contact:
Portia MacDonald-Dewhirst, Executive Director, CAHRC,
613-745-7457 x 222 macdonald-dewhirst@cahrc-ccrha.ca
Andrew Hurrell, Business Development & Stakeholder Engagement, CAHRC,
613-761-2519 ahurrell@cahrc-ccrha.ca
Theresa Whalen, Communications & Marketing Specialist, CAHRC,
613-325-7321 twhalen@cahrc-ccrha.ca
Ag organizations use ASApp to connect with members and save